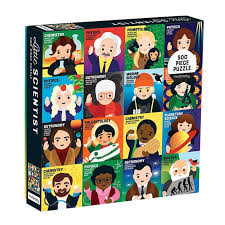 (500 pcs) Little Scientist Puzzle
Regular price $0.00 $17.00 Sale
Mudpuppy's Little Scientist 500 Piece Puzzle is comprised of colorfully illustrated portraits of real people who have made a historical impact on the world with regard to science, including Albert Einstein, Marie Curie, and George Washington Carver. Illustrations by Lydia Ortiz introduce children to these important people in history with images that are fun for youngsters and also realistic. Mudpuppy puzzles are packaged in matte-finish sturdy boxes, perfect for gifting, reuse, and storage.
-500 pieces
-Complete puzzle: 20 x 20"
-Box: 8 x 8 x 2"
-Puzzle greyboard contains 90% recycled paper. Packaging contains 70% recycled paper. Printed with nontoxic inks.
-Ages 8-99