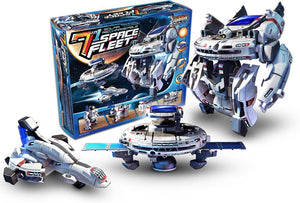 7 in 1 Rechargeable Space Fleet
Regular price $0.00 $31.00 Sale
This is an innovative solar_powered science kit. It provides children opportunities to learn science principles. At the same time it helps children to increase their creativity and develops their imagination of space exploration.
The kit come with snap together plastic parts( no tools or glue required). Micro rechargeable battery, solar panel, and other accessories. the sunlight will drive the motor and then the space station will run, an the astronaut will walk. The space station can be transformed in to the Space Mech, which can walk under the direct sunlight. Children can discover the vast space by playing with this kit. 
The kit can be powered by either a solar panel or a micro rechargeable battery ( both are included in the kit). The micro rechargeable battery can be charged in two ways.one is charged by direct sunlight, and the other one is charged alkaline batteries ( not included)
Children can enjoy the spatial adventure indoors and outdoors.