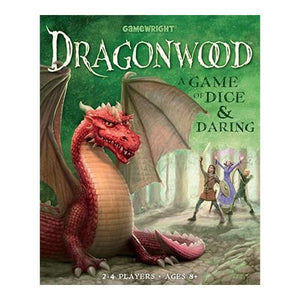 DRAGONWOOD
Regular price $0.00 $28.00 Sale
Dare to enter Dragonwood! Deep in the heart of this mythical forest lurk angry ogres, giggling goblins, and even the famed and fearsome fire-breathers themselves!
In Dragonwood, you collect sets of adventurer cards to earn dice, which you then use to roll against your foes. Stomp on some fire ants, scream at a grumpy troll, or strike the menacing orange dragon with a magical silver sword. Choose your strategy carefully because the landscape of Dragonwood is ever-changing. Only the bravest will overcome the odds to emerge victorious!
On their turn, players either draw a card or attempt to capture a creature or enhancement. Players draw from the Adventurer deck that contains cards of 5 different colors all numbered 1-12. With these cards players form combinations to attempt a Strike (cards in a row of any color), a Stomp (cards of the same number) or a Scream (cards of the same color). To capture, players roll a number of dice equal to the number of cards they have of the particular combination. Each creature has different minimum values of a Strike, Stomp or Scream needed to capture it, and a Victory Point amount.