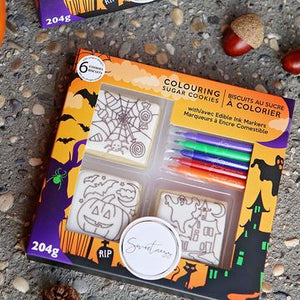 HALLOWEEN DIY COOKIES
Regular price $0.00 $16.00 Sale
HEY KIDS! GO AHEAD AND PLAY WITH YOUR FOOD.
INVENTED BY A MOM. BROUGHT TO LIFE BY KIDS.
MESS FREE  |   CONVENIENT  |   AND A RIDICULOUSLY GOOD TIME


The perfect "snacktivity" for on the go! Grab a pack, toss it in a bag and you've got entertainment and a snack all in one...oh and the cherry on top, super quiet kids (woot woot). Edible Ink Markers included. 
Each cookie measures approx 2.5" x 2.5".
Cookies come packaged in either our 6 pack boxes, and are manufactured by hand in Edmonton, Alberta.
Cookies will remain fresh in their air-tight container for up to 6 months at room temp. Cookies can also be frozen in an air-tight bag and will remain fresh for up to 12 months!
Please ensure Sweetness Edible Ink Markers are wiped clean after every use and are fully closed so they do not dry out.
Our colouring cookies contain wheat (gluten), eggs & milk (butter). Cookies may contain almonds as they are made in a facility that manufactures products with almonds.