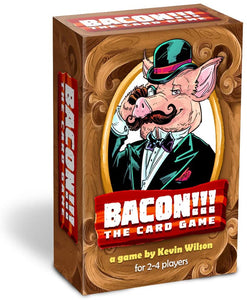 BACON!!! THE CARD GAME
Napolean Von Wienerschnitzel is hosting a contest and the greatest chefs in the land have gathered in his grillyard to vie for the coveted Golden Skillet. The challenge is simple. Bid to acquire lots of meat (and lesser foods) and pair them with as much Bacon you can acquire to create sizzling and crispy creations of deliciousness! The chef who goes whole hog and lays out the best bacon-wrapped spread of delights will be crowned the Golden Skillet Champion!
BACON!!! is a real-time auction game in which players are trying to win piles of facedown cards that are being slowly revealed by the auctioneer. The goal of BACON!!! is to acquire a mix of Food cards and Bacon cards (to wrap around the Food) in order to score the most points.
BACON!!! is a delicious mix of skill, luck, and timing.