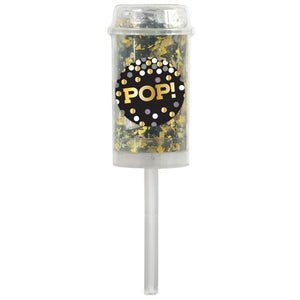 CONFETTI POPPERS POP!
Regular price $10.00 Sale
These Wonderful and Fun Push-Up Confetti Tubes can be used for so many different occasions and Events, Weddings, Engagements, Birthdays, Graduation, New Years Eve just to name a few!!
2 per package

5cm diameter x 18cm long approx

Made of Plastic these poppers feature a Sticker with a headline "POP" on them which are written on the front of each popper and inside the popper there is shinning foil confetti pieces.

Give them to your guests at your special occasion & they can push the stick and out will pop the shinning confetti!