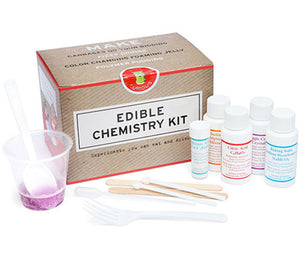 EDIBLE CHEMISTRY KIT
Regular price $10.00 Sale
Fill your stomach while expanding your mind with the incredible Edible Chemistry Kit!
Create over sixteen tasty experiments you can eat and drink including funny fizzy drinks, color-changing foaming jelly, polymer pudding, and cabbages that do as they're told.
Easy-to-follow instructions ensure safe, non-toxic results that are fun for the whole family. And you don't need to worry about gathering all kinds of hard-to-find materials beforehand, because it's all included in the box.
Amaze your friends, your family, and your taste-buds with the Edible Chemistry Kit. It's a delicious science blast!