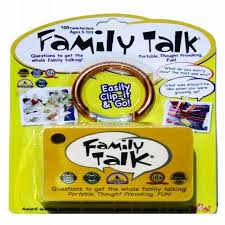 Family Talk
Regular price $0.00 $9.00 Sale
FOR THE WHOLE FAMILY: Family talk 2 is a creative and engaging game that allows for hilarious conversations and discussion to spark with every question in just a matter of seconds!

CREATIVE GAMEPLAY: Featuring 100 new thought provoking and silly questions, Family talk 2 offers circumstances to encourage imagination and gives an opportunity to peek into the minds of your family.

TRAVEL GAME: Complete with a durable clip, Family talk 2 can be taken just about anywhere for family fun no matter where the day may take you whether it be the park, the car, or family game night.

AWARD WINNING: The winner of the Dr. Toy Top 10 Games, iParenting Media, National Parenting Center Seal of Approval, and Learning Magazine's Teachers Choice award, Family Talk 2 is the game for you!

ANY OCCASION: Whether you are at the table waiting for food at a restaurant, sunbathing at a park, or taking a road trip, Family Talk 2 is the thing to get everyone involved with its new questions.