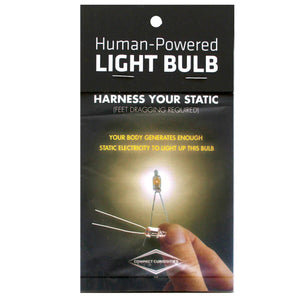 Human Powered Light Bulb
Regular price $0.00 $7.00 Sale
Are you looking to burn off some energy and have some geeky science fun?  Then it's time to throw on your favorite pair of socks and start dragging your feet around the nearest carpeted floor like you did when you were a kid!
But instead of zapping everyone, you can enjoy amazing family and friends with our Human-Powered Light Bulb!  It amazingly turns your body's natural static charge into a useful light! 
A fun gift for your super bright friend!  It's also the perfect size for an electrifying stocking stuffer!  Tired of your adorable freeloader being too young to contribute financially?  Let them help save money but lowering the electric bill!*
Includes one light bulb.  *Okay, well yes and no.  But definitely not for kids under 3.