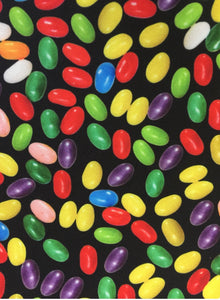 Kids Face Mask Jelly Bean
Regular price $12.00 Sale
Each mask is made of two layers of  100% Lycra fabric.
Adjustable snug fit, maybe worn around head, or can be cut and knotted to fit behind ears.
Machine washable in hot water. Mask must be washed before each use.
These masks are NOT medical grade. These masks will NOT prevent you from contracting Covid-19. Social distancing and hand washing is still the best known prevention.

Due to health and safety regulations, all masks are FINAL SALE and cannot be returned or exchanged.
These masks are being made by the amazing girls at Bathing Belles on Roncesvalles Ave. In Toronto
*Bathing Belles is currently sewing and donating their masks to Long-Term Care Homes in the city, and essential workers in our community.
When you buy a mask, someone who feeds you, or takes care of your grandparents gets a free mask!