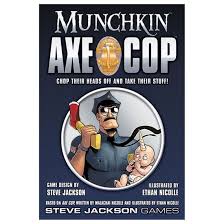 Munchkin: Axe Cop
Regular price $0.00 $23.00 Sale
Munchkin Axe Cop is a simple, lightweight multiplayer "take that" style card game. Cards represent character abilities, items, monsters to fight, and cards to make monsters harder to defeat (for monsters other players are fighting) or easier to defeat (for you). Every time you defeat a monster, you go up a level. The first player to level 10 wins.
This is a core set for Steve Jackson's Munchkin game, based on the hit webcomic by Ethan Nicolle (age 29) and his brother Malachai (age 6). It can be combined with other games in the series.
The game doesn't have any new mechanics and should be easy to learn for anyone who's played one of the other Munchkin games. Hirelings are included and are called allies. There are four classes: Cop, Man, Soldier, and Warrior (which is identical to the class of the same name in fantasy Munchkin). This set also has powers; there are seven of them with two cards each, for a total of 14 cards. The mechanics of powers are exactly the same as in the other Munchkin sets that have them.
Several Santa monsters are included, as well as two new monster categories, Alien and Robot, which currently aren't recognized in any of the other Munchkin games.
It's not necessary to know anything about the Axe Cop webcomic in order to enjoy this set.