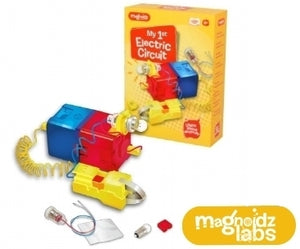 My 1ST Electric Circuit
Regular price $0.00 $14.00 Sale
An ideal gift for a young inquisitive mind! Learn about electricity with the Magnoidz 'My 1st Electrical Circuit'. 
Magnoidz is a fun and challenging range of science experiment kits for children. 'My 1st Electrical Circuit' kit provides children with a cognitive challenge and learns the child important facts about electricity such as;
Where is electricity used?
What types of places/ objects use electricity?
All of this information is packed into the Educational Resource booklet included in the pack.
This electrical experimentation science kit contains instructions for 3 experiments including;
Experiment 1: Light up a miniature bulb
Experiment 2: Make a switch
Experiment 3: Discover which materials conduct electricity
Features
Instruction and Educational Resource booklet included
What's in the box?: 1 x battery holder, 1 x Tester A & B, 1 x miniature bulb and socket, 1 x miniature bulb holder, 1 x conductive wire, 1 x battery terminal connector, 2 x terminal connector, 1 x aluminium foil.
23cm
Recommended for 6+ years