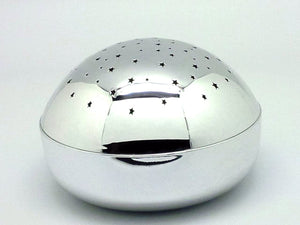 Round Projector Night Light
Regular price $0.00 $16.00 Sale
Twilight Constellation Galaxy Nightlight Color Changing Starlight Projection Light.
The Galaxy Chrome projection night light gently transforms nurseries and bedrooms into a starry sanctuary that comforts and calms children

The multi-color LEDs project a complete starry night sky onto the walls and ceiling of any room

The internal LED softly alternates the starlight projection - from red to orange to green, blue, violet and back again

Push-button on/off switch on the underside activates the lamp for 45 minutes. A built-in timer turns off the lamp

High impact plastic construction. ROHS compliant materials. Powered by 3 AA batteries - works for 60+ nights per set of batteries.