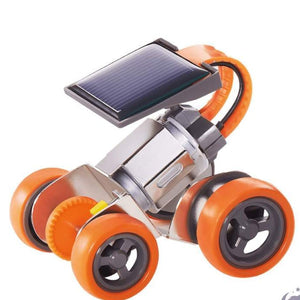 Solar Metal Racer
Regular price $0.00 $13.00 Sale
Solar Metal Racer possesses all the qualities of a five-tool player: strength, power, speed, building, and cost-effectiveness. It will bring excitement for any child and provide a fun-filled filled learning experience. 
Tiny but Powerful: Th sturdy frame ensures the racing car can survive any weather condition or any careless drop during the play. Your child can have fun with this little companion with the bonus gift of learning mechanical transmission and electrical motor theory on the way.
Learn about renewable energy: Green energy will play a major role in the homes and vehicles of tomorrow and learning the importance of usage and application designing around green energy is a must for any young citizen of planet Earth.

No batteries required:

 With the solar-energy-focused design, Solar Metal Racer proves it can just fast and furious like any batteried racing cars.