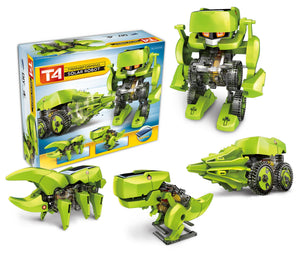 T4 Transforming Solar Robot
Regular price $0.00 $27.00 Sale
Just in the sun, Amazing T4 is to transform in to multi-robot style with extraordinary movements beyond your imagination
T4 is basic Solar Robot Toy Kit, Powered by natural green energy source of Sunlight,- clean, eco- friendly and obtained easily from out door. No battery, T-Rex, Drill Vehicle and Rhino Beetle for entertainment and fun. Besides, it offers a chance to learn another green energy source to use, and teach children how the motor is activated by solar power to work as well as mechanical transmission knowledge acquired form its different movements.
Well, are your children still glued to the smart-phones all day long.
Heads up and go outside to play T4 with fun right away!