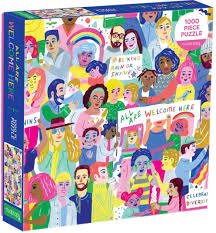 (1000 pcs) All Are Welcome Here Puzzle
Regular price $0.00 $20.00 Sale
Piece together All Are Welcome Here! 1000 Piece Family Puzzle from Mudpuppy to reveal a colorful illustrated collage showcasing human diversity and acts of kindness.
This inspiring illustration includes positive mantras for living and inclusion such as "All are Welcome Here," "Be Kind Rain or Shine," "Celebrate Diversity," and more.
Puzzle pieces come packaged in a sturdy and easy-to-wrap box, perfect for gifting, reuse, and storage.

- 1000 pieces

- Assembled puzzle measures: 27 x 20", 68.5 x 51cm

- Box measures: 11.25 x 8.25 x 2", 28.5 x 21 x 5cm

- Ages 8-99

- Puzzle greyboard contains 90% recycled paper. Packaging contains 70% recycled paper. Printed with nontoxic inks.
- All Mudpuppy products adhere to CPSIA, ASTM, and CE Safety Regulations