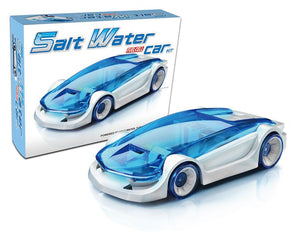 Salt Water Fuel Cell Car Kit
Regular price $0.00 $23.00 Sale
This is a concept of
Environmental Friendly 
fuel cell vehicle.
A great chance for children to learn about this new energy, see how amazing it is to just add salt water to have the car run. 
FC module included 3 parts , the magnesium metal sheet is consumable item, one sheet can have the car run for about 5-7 hrs continuously. 
kits included 3 magnesium metal sheet. easy to take out the FC module when not in use , and rinse it by tap water. 
All material used in this kit are environmentally safe and clear, no toxic substances or disposal concerns. 
Inspired by the vehicles of tomorrow, the
Salt Water
Fuel Cell
Car Kit
lets your child learn about
Eco-friendly 
automobiles through play.